I remember last year I went to baby family expo to picked up my
prize from The House of Cuppy Cakes that I have won from
Mommy Serene
the woman behind Nurse's Diary.
It was truly a must visit big event of the year, because you can
learn new things from their various speakers.
and t'was really fun to stroll around and visit different booths.
you can check my experience
HERE
.
and for this year I also signed up online for me
to catch a FREE Entrance Ticket ..
Now , they will have another round happening on Dec 5 - 7 ,2014
to add up to your excitement here are the list of their Programs
SMART PARENTING PROGRAM AND MORE
DAY 1 -

Friday, December 5, 2014

Maternity 101: Things every woman should know before having her first

baby

Get valuable advice and tips on things from the know how's of breastfeeding to proper handling of your first born

baby

.

Speaker: Dr. Irene Quinio, Obstetrician and Gynecologist from The Medical City

Time:

2:00 pm –2:30 pm

ABCs of Newborn Screening: Understanding the importance of early detection for newborn

babies

Discover and know the importance of early detection of for newborn

babies

from the expert

Speaker: Dr. Carmencita D. Padilla, Director of Newborn Screening Reference Center

Time:

2:30 pm – 3:00 pm

Working Mother: Tips & Advice for Balancing Career and Motherhood Learn tips and advice from a successful working Mom on how to balance career and motherhood at the same time

Speaker: Merlee Jayme, Creative Director of DM9 JaymeSyfu

Time:

4:30 pm – 4:50 pm

Handling your newborn

baby

from head to toes: how to carry, bath, feed & interact Know the best information and advice on proper handling of your newborn child

Speaker: Dr. Ma. Christina Tuason, Pediatrician from The Medical City

Time:

5:10 pm – 5:40 pm

Kids 911: What to do during emergencies Tips and guidelines for parents on what to do to their kids when emergency happens

Speaker: Dan Uy, Training Director of Ambucore

Time:

5:50 pm – 6:10 pm

DAY 2 –

Saturday, December 6, 2014

– 1st

FAMILY

SUMMIT Save or Splurge: Financial Education for

Families

Learn different money management tips to maximize your financial resources in the home.

Speaker: Mark Joseph Fernandez, Top Financial Advisor, Insurance and Investment Expert

Salve Duplito, Prolific and multi-awarded business and finance writer

Time:

1:00pm – 1:45pm

Happy and Healthy

Family

in the Modern Age Learn healthy habits for the whole

family

- from cooking healthier foods to increasing physical activity and fun ways every

family

member can do to encourage

family

fitness.

Speaker: Dr. Florianne Valdes, Pediatrician from The Medical City

Time:

2:00pm – 2:45pm

Education as a

Family

Affair Rediscover the importance of education and the role of the

family

in achieving scholastic excellence.

Speaker: Dr. Edilberto Dizon, SPED Diagnostician-Counselor, and a retired Professor of Special Education

Time:

3:00 pm – 3:45 pm

Secrets to an affair-proof marriage Discover the secrets in preventing infidelity to help you create the kind of marriage you've always dreamed of.

Speaker: Nathaniel Chua, Counselor and Relationship Expert

Michael Carino, Counselor and Life Coach

Time:

4:00 pm – 4:45 pm

DAY 3 –

Sunday, December 7, 2014

Parentpreneur Talk: Made in the Philippines: From idea to business - creating innovative products for

babies

and children Hear inspiring stories, tips and advice from different Mompreneurs who made it successful in the business world.

Speaker: Ms. Paola Loot of Mommy Treats

Krie Reyes-Lopez from Messy Bessy

Time:

2:10 pm – 2:30 pm

Get Your Body Back in Shape After Pregnancy Get tips and advice from fitness expert on how to work your way back to your pre-pregnancy body or even better!

Speaker: Edward Mendez, Model-actor turned fitness consultant

Time:

2:30 pm – 3:00 pm

Everyone is Talking, Nobody is Listening: How to improve everyday communication among

family

members Building

family

and relationship strengths through good communication among

family

members.

Speaker: Ali Gui, Registered Psychologist and Relational Life Coach.

Time:

3:30 pm – 4:00 pm

Importance of good communication between parents and yaya's Know the benefits and advantages of having good and open communication with your yaya's at home

Speaker: Menchit Ordoveza, Facilitator of My Dearest Nanny Training

Time:

4:30 pm – 5:00 pm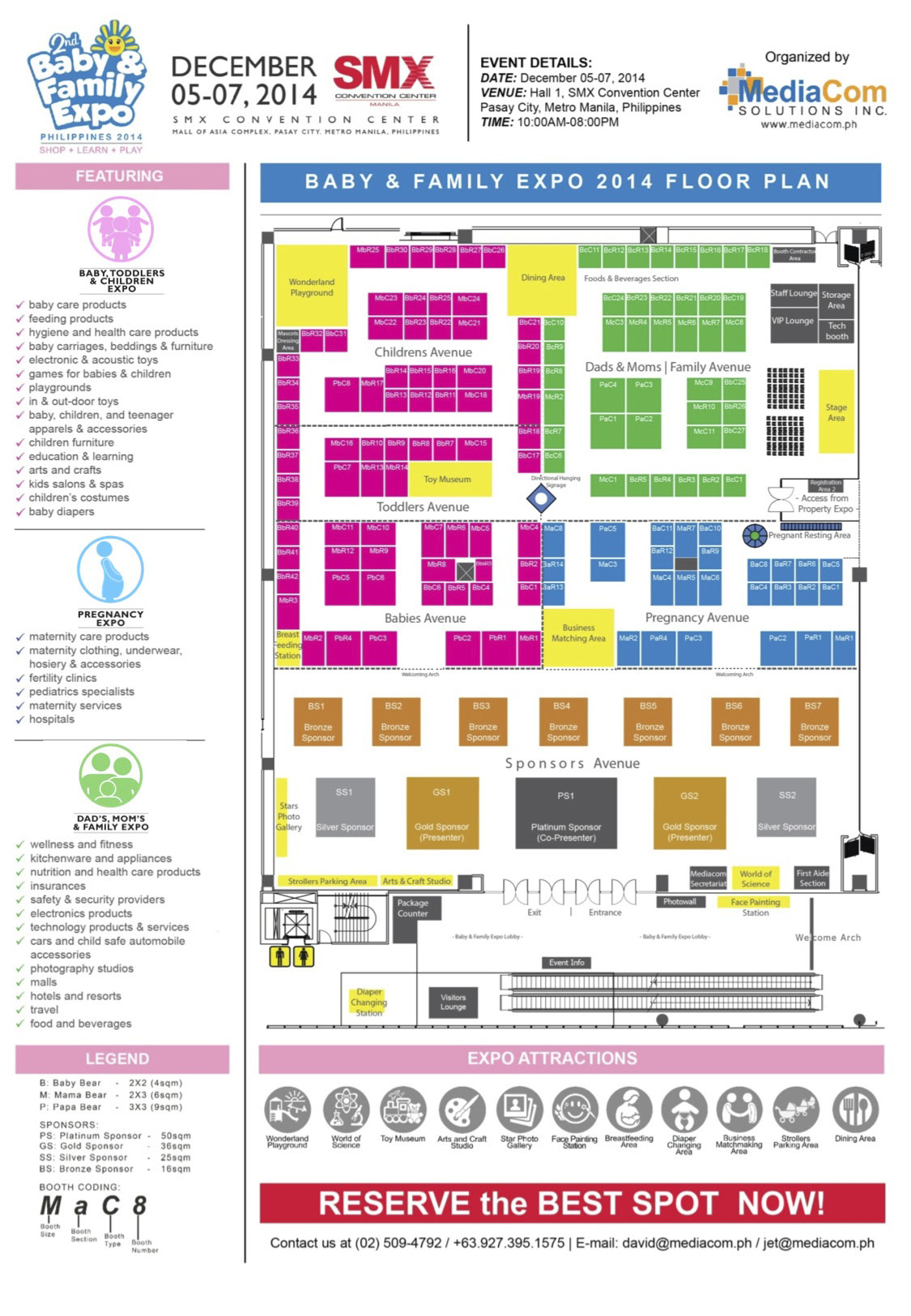 And here are the list of their exhibitors:
LIST OF EXHIBITORS
Adorable

Baby

Cloth Diaper Trading
Tupperware Brands Phils., Inc
Federated Distributors, Inc.
Minton Multiresources Inc.
Childrens Dental Center Co. Inc.
Designer Kids Enterprises
Roppets Edutainment Production Inc
Business Innovations Gateway Inc.
Tupperware Brands Phils., Inc
E-nnovations Technologies & Mktg. Corp
Rachel Swissdeli Restaurant
Intellismart Technology Inc
Comark International Corp
EXHIBITING INDUSTRIES
Baby

/ Toddlers / Children
Baby

carriages, bedding & furniture
Electronic & acoustic toys
Games for

babies

and children
Children,

baby

, and teenager apparels & accessories
Pregnancy

Maternity care products

Maternity clothing, underwear, hosiery & accessories

Fertility clinics

Pediatrics specialists

Maternity services

Hospitals

Kitchen ware and appliances
Nutrition and health care products
Technology products and services
Cars and child safe automobile accessories
Party organizer, hosts and suppliers
LEARN SMART PARENTING TIPS,
JOIN INTERACTIVE TALKS & BE INSPIRED BY THEIR STAR SPEAKERS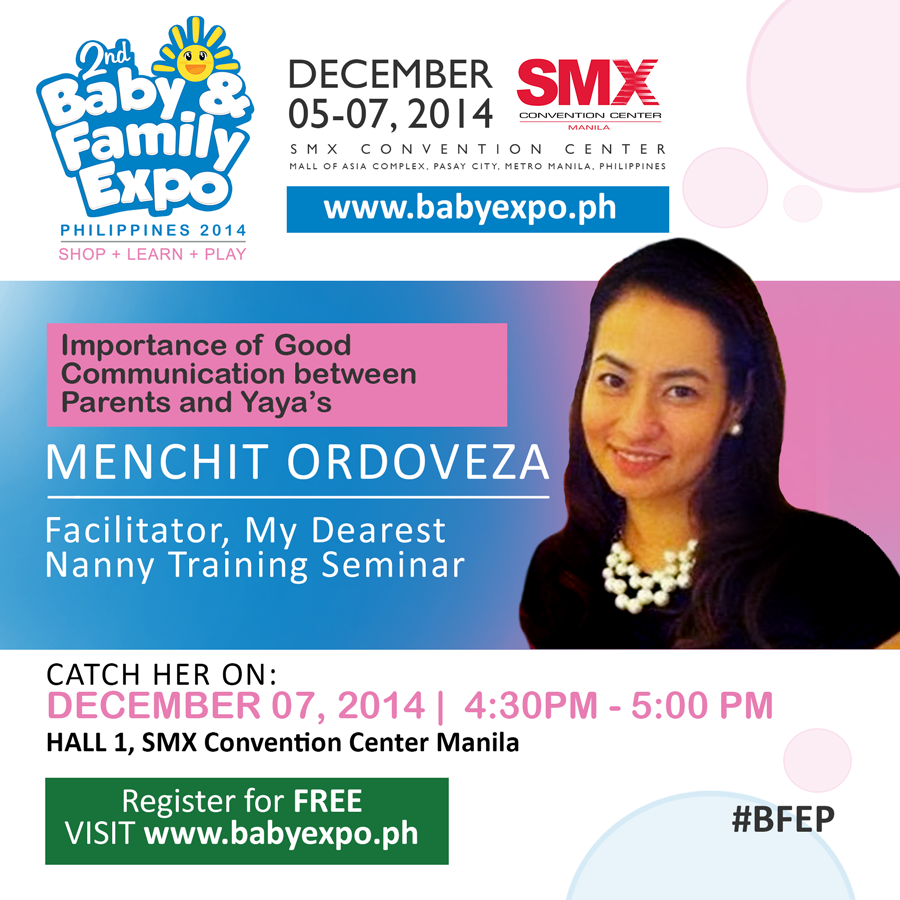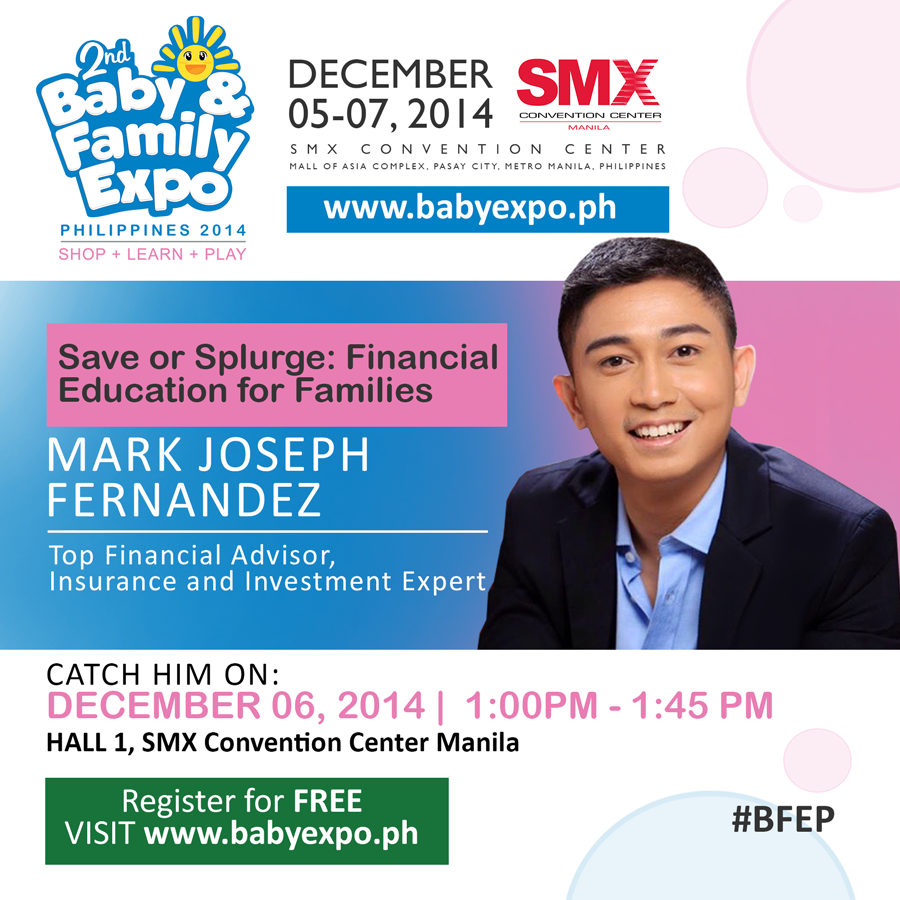 Get Your FREE Entrance Ticket Online.
REGISTER NOW! HERE
and
Want your
BRAND to be Part of the BIGGEST SME Event
of the Year? BOOK YOUR SPACE NOW
Limited Slots Available!
HERE
ABOUT THE ORGANIZER
MEDIACOM SOLUTIONS INC. is a leading business community building company and a professional exhibition and convention organizer. MEDIACOM is organizing the annual Philippine Small & Medium Enterprise Business

Expo

, Entrepreneur & Franchise

Expo

,

Baby

&

Family

Expo

Philippines, Property

Expo

Philippines and Philippine Fitness & Sports Summit. The company is currently servicing 80 industry sectors with 5 dynamic face-to-face exhibitions and professional conferences, supported by its targeted trade publications for a fast growing community of over 380,000 exhibitors, visitors, conference delegates, advertisers and subscribers from all over the world.
Follow them on : TWITTER
note: not a sponsored post